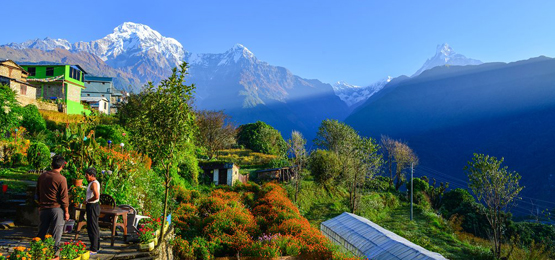 TREKKING
Nepal is a pioneer trekking destination in the World. Pokhara area is the centre of trekking in Nepal. Annapurna region is known as Trekking Paradise. Round Annapurna Trek is one out of the best ten trekking routes in the world. (referred to P.5) We recommend you to arrange trekking only through trekking agencies that are registered with the government. Annapurna, Dhaulagiri and Manaslu are major trekking regions in this area. The trekking routes are of different durations from day hikes to 3 weeks or even more. (www.trekkingagents.org)
MOUNTAINEERING
Pokhara has been popular gateway and rest place for trekkers and mountaineers since 1950. Successful climbing of world's highest mountain peaks elevating more than 8000 meters above sea level started from Pokhara Region. It is the place to start expeditions to Annapurna and Dhaulagiri regions. A famous French mountaineer Maurice Herzog also started his expedition from Pokhara and successfully climbed 8091 m. high Annapurna first for the first time in the human history in 1950. www. tourism.gov.np, www.nepalmountaineering.org, www.himalayanrescue.org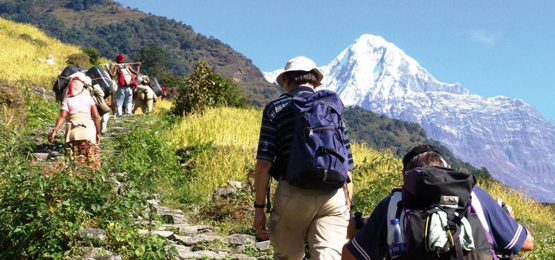 HIKES
There are several hills and hillocks around Pokhara for day or two day hikes. Kahun hill, Sarangkot, Kaskikot, Naundanda, Australian Camp, Astam, Armalakot, Rupakot, Pachabhaiya hill, Kalikasthan, Pumdi, Mattikhan, Nirmal Pokhari, Gharmi, Thulakot, Dhampus etc. are some hill stations and hiking places from where we can enjoy local culture, sunrise, sunset, panoramic mountain view etc.
PONY TREKS
You can go for a half a day or full day for pony trek and enjoy the tranquil routes in hinterlands and surrounding of Pokhara by experiencing the real rustic life. You can also go for several night hold pony treks. Routes are referred to P.29 "Destinations Around Pokhara Valley". These places are also suitable locations for day hikers and pony treks.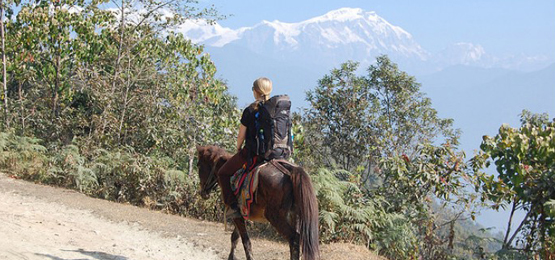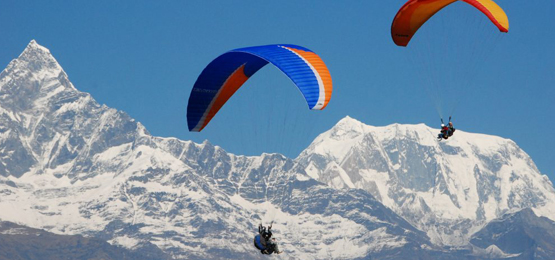 PARAGLIDING
Can you imagine sharing the same air space with the Himalayan griffin vultures, eagles and kites as you soar over the rivers, lakes and villages? The mountains loom over you to your north and below you the landscape is dotted with paddy fields and hamlets. Probably that's why Pokhara is amongst the hotspots for Paragliding in the world. Although you can experience paragliding all the months of the year, the best time is between September to April.
MOUNTAIN FLIGHTS
Chartered Mountain Flights from Pokhara take you to the close spectacular view of some of the world's tallest Himalayas in Annapurna region. Mountain flight is also interesting for even those who have done their trekking. It gives you value addition to the experience of trekking. Mountain flights give chances to see the whole mountain range at one glance. Pokhara is a place, which offers crystal clear sky even during the winter. Helicopter services are also available for those who wish to make it a more private affair.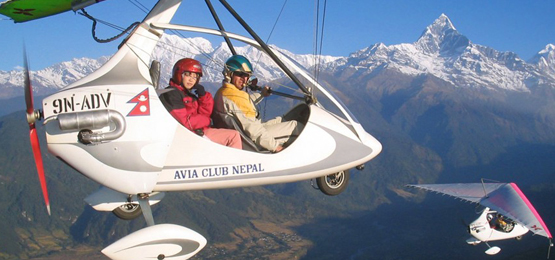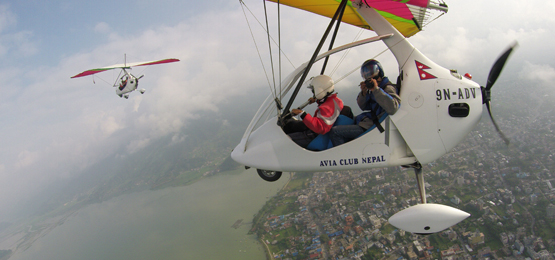 ULTRA LIGHT FLIGHTS
If you have a dream to fly like birds, come to Pokhara, leave your woes behind on earth, soar to heights, bathe in the clouds, reach out for the mountains and kiss the azure sky as you fly across. This also offers opportunities to take some of the most breathtaking views. It operates regular flights from Pokhara airport; September to June. No such flights during the months of July and August.
RAFTING / KAYAKING
Whether you would like to Kayak in Phewa, Begnas lakes or raft down the Seti river, Pokhara has it all. Because of its proximity to the mountains, other snow-fed wild rivers also run through surrounding areas, making Pokhara region a top rafting destination. Beside Seti River, rafting trips to other major rivers like Trisuli, Marsyangdi and Kali Gandaki also begin and end in Pokhara. The grades of rapids vary from +2 to +5, for 1 to 7 days or even more, depending on rivers. www.raftingassociation.org.np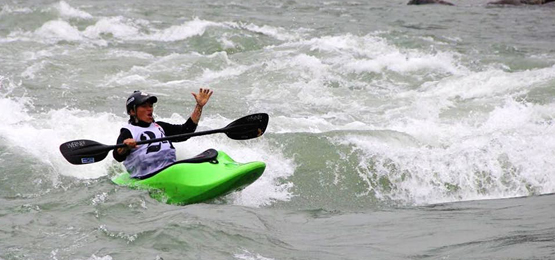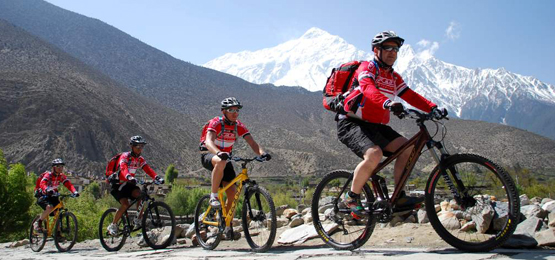 MOUNTAIN BIKING
Wouldn't you like to pedal push your way through waterfalls, up and down treacherous slopes and amidst centuries old monasteries and rice granaries? Well, that's mountain biking in Pokhara region in a nutshell for you. On one hand, you have to cycle through lush forests and culturally heterogeneous communities while on the other hand, up steep mountains and through cruel mountain rivers. Places like Nirmalpokhari, Dhampus, Sikles, Rupakot, Astam, Panchase, Kahun hill, Sarangkot, Jomsom, Baglung etc. are famous mountain biking destinations around Pokhara.
GOLF
There are two golf courses and a driving range in Pokhara. Himalayan Golf course, situated around 13 km east from lakeside is a world class golf course in Pokhara. It offers an amazing golfing experience in a unique ground with 18 holes. It is also known as a golf course in a paradise. Spectacular, stunning and unique location has made it really a most amazing golf course in Asia. Yeti golf course is 9 hole course situated in the premises of Fulbari Resort, one of the two five star hotels in Pokhara. There is also one golf driving range at Damside, Pokhara for beginners and learners of golf. Heli skiing was attempted by a French team in Manang, north of Pokhara in 2003 and found the place as a very good place for heli-skiing. Manang is considered as one of the remarkable heli-skiing spots in the world. Helicopters can be chartered either from Pokhara or from Kathmandu for this purpose.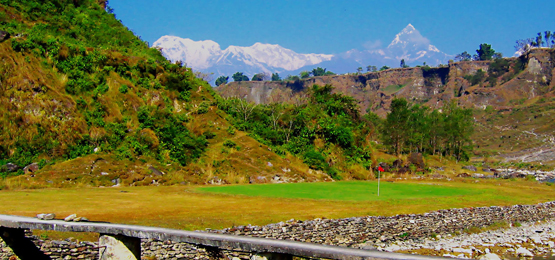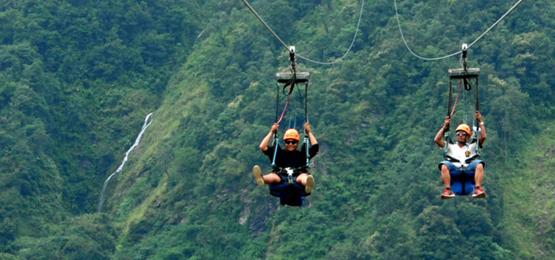 ZIP-LINE FLYER
A new exciting activity has been added in the hub of adventure since 2012. It consists of a trolley mounted on a steel cable 1.8 kilometres in length, the ride descends 2000 vertical feet at an angle of 56 percentages. With resulting speed of over 90 miles per hour, this makes it the most extreme zip-line ride in the world. Archery range, swimming and more activities...........
SIGHT SEEING
Once you arrive in Pokhara, you feel as if you are in a completely different place. The natural scenery welcomes with splashing mountains and smiling people. You can plan sightseeing places as per your time availability. Sightseeing places are suggested later in this booklet.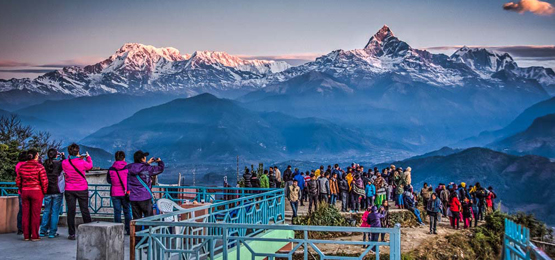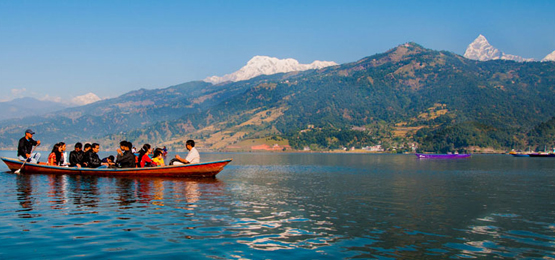 BOATING / SAILING
Sail the boats on the lakes just near the mountain shadows, chat with your loved ones, nearest ones and say 'wow…' together with your family on the blue water. Those are the wonderfully relaxing ways. Whenever your life is chaotic, and stressed, Pokhara is there to make your relaxation wonderful, meaningful and memorable.
FISHING / ANGLING
The lakes and the confluence points of mountain stream rivers are good spots for Sahar, Katle (Nepali native species, carp family), eel and catfish. You can enjoy fishing of a reel, a lure, and so on. Fishing rods are available at lakeside.;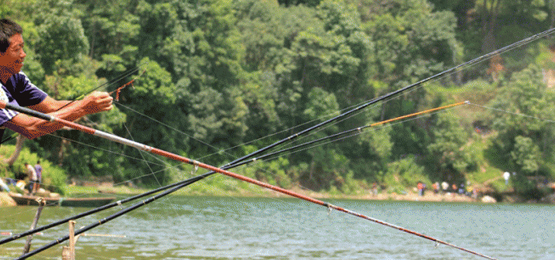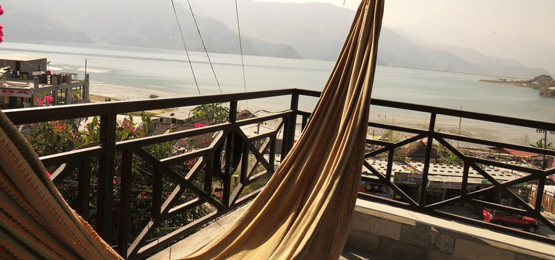 SUN-BATHING
Pokhara is a natural wonder situated in sub-tropical low land in close proximity to the massif Himalayas. You can brown your skin with panoramic view of snowy mountains. You can also sit for meditation, practice yoga, experience massage and relax in tranquil and natural atmosphere.
MAJOR ATTRACTIONS OF POKHARA
Pokhara is a destination,where Entrepreneurs have Prepared COC( Code of Conduct) and CSR(Corporate Social Responsibility) guidelines to develop Responsible and Sustainable Tourism in destination level. In this Regard, Pokhara Tourism Council and South -Asia Regional Co-ordination Office of NCCR, North -south jointly prepared those COC and CSR guidelines after several rounds of discussion with entrepreneurs.
Best place for magnificent
snow capped mountain view
Deepest gorge in the world
Lake situated in the highest elevation in the world
Large rhododendron forest (claimed to be largest in the world)
Crystal water lakes
Natural caves
Gushing rivers
Waterfalls
Sight seeing
Amazing hill stations
Museums, temples, monasteries
Hiking
Pony treks
Trekking
Mountaineering
Rock climbing
Honey hunting
Mountain biking
Zipline fly
Paragliding/Parahawking
Ultralight flights
Mountain flights
Heli-sight seeing
Heli-skiing
Rafting
Kayaking
Boating
Fishing
Golf
Bird watching
Meditation
Sunbathing
Home stay and Village tour
Experience
Tibetan Settlements and their culture
Village tourism experiences
Pilgrimages to temples, monasteries etc.
Sports like mountain marathon, cricket, football etc.
Hub for adventure as well as relaxation tourism
Pokhara Stadium, Cracked-Land and local traditional bridge, Chisakhola Veda Vidhyashram (Vedantic School)
Vulture Restaurant
Kharapani Hot Spring
Hand Gliding, Paramotoring, Hot Air Ballooning, Canyoning, Sky Diving (Upcoming Products)